The OnlineGolf 2018 Buyers Guide to Golf Drivers
Are you seeking unrivalled distances from tee to green? Are you hoping to achieve better shot accuracy, or shot shaping? Whatever it is you would like to improve, we want to help you get there. So, we've devised this helpful buying guide to golf drivers, which details everything to help you play better and gain confidence on the greens.
Beginner/High handicap
Golfers playing at high handicap should opt for a golf driver with a larger head size (460cc is preferable), with a lightweight or regular shaft. Also, be sure to check loft, as this can be good with helping to get the golf ball flying straighter.
There are many options out there for golfers still acclimatising to the world of golf, as well as for those who are still a little unsure of their skill level. Even if you've never swung a golf club before, these drivers will add confidence to your play, so check them out. The TaylorMade M1 Driver 2017, TaylorMade M2 2017 Driver, Callaway Golf GBB Epic Driver, Mizuno Golf JPX900 Driver, Cobra King F7 Silver Driver and Wilson Staff D300 Driver are all ideal for high handicaps and offer excellent lightness and forgiveness in every swing.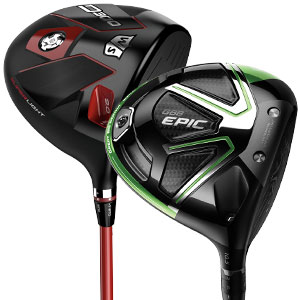 Mid/Low-handicap
If you are low handicap player, then you may need to consider opting for a wider variety of shaft/head options, including matching your current swing speed, golf ball speed and launch condition. Consider checking out the range of more compact and workable heads as these will undoubtedly enhance your game.
Low handicappers are skilled to the highest level outside of professional and will seek the most difficult to master golf drivers. The Cobra King F7+ Black Driver, Cobra Golf King F6+ Turbulance Driver, Callaway Golf GBB Epic Sub Zero Driver and Titleist 917D3 Driver are perfect for a low-handicappers bag, and should be considered when buying.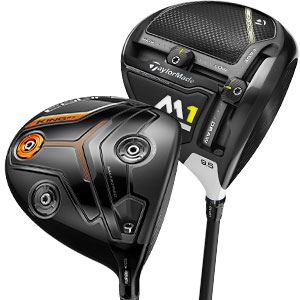 Golf Driver Tips & Advice
Here's some extra information around loft, stats and common misconceptions for golfers looking for drivers this season.
Lofting up
When just starting out with a driver, it is advisable to have more loft in the club, as this will help your performance grow considerably. Over time your handicap will lower, and so will the loft that you use, so it's definitely better to work from the top and ease yourself down as you gain that vital experience.
Know your stats
Look at your stats often. They tell a great story as to where your current ability lies, which should help to make a more informed decision on how to play going forward, and the equipment to use. Practice makes perfect, so taking these points on board now will definitely help in the long term. Trust your stats and rise up the ranks!
Common misconceptions – How fast are you really swinging?
A lot of golfers – and we mean A LOT – believe their golf swing is much quicker than it really is. The reality, however, is that very few of us are actually able to hit the golf ball with as much venom as we'd like to think. If it feels like you're hitting the golf ball at tremendous speeds, well that's great, but chances are, unless you're Rory McIlroy, the golf ball is being hit far softer than we realise.
Not that this is an issue, as over time your swing speed will increase as experience and fitness grows. The same applies for hitting the golf ball, too.
It is fine to use a lightweight shaft if you're just starting out as it offers plenty of forgiveness for beginners. Just because others are using stiffer shafts does not mean you should follow suit, at least not until you move into the mid handicapper bracket.
Check out our full range of golf drivers now, or browse by brand, which includes TaylorMade, Titleist, Callaway, Cobra, Mizuno, Wilson Staff, PING, Nike, Benross, Wilson, Yonex, US Kids, Golphin.