Golf GPS VS Rangefinder: Which one should you choose?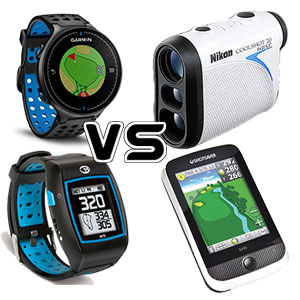 Gone are the days when it was only PGA Tour players traversing the greens with a caddie at their side receiving vital course information to help them achieve precise numbers to the flag. Plus those same caddies also had detailed yardage should they find themselves in a sticky situation. For us regular golfers, though, well we had to be content simply with yardages stamped on sprinkler heads and an occasional white stake. Or a lopsided signpost depending on the kind of course you frequented.
But now things are a little different. When the winds of change blew through the golfing world, it left behind GPS – which was quickly added to every smart phone – and laser rangefinders, which told you straight up the precise yardages for every player's swing.
It was a remarkable leap in golf technology and has drastically enhanced the games of players all over the world. The only problem, of course, was that with so much choice indecisiveness began to creep in. Was a GPS better than a laser rangefinder? Were they available in a brand I liked? Does this one do a better job than that one? It quickly became apparent that as a race we want choice but, once it's allocated to us, we've no idea what we actually want! So with that in mind we bring you a simple guide to deciding between a golf GPS and a laser rangefinder.
GPS
Pros
One of the things which makes GPS devices so attractive to the majority of golfers is the wide array of forms it can take. For instance, you could get yardages on your phone, watch or even hat clip. That's without mentioning the original and still very much popular handheld units. This convenience in the modern day is exactly what golfers are looking for, with watches especially appealing as you can gather information on yardages with a quick glance at the wrist.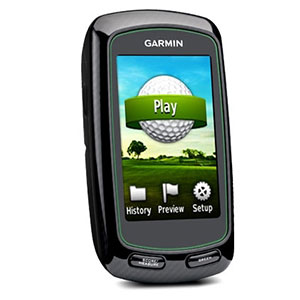 A fully-featured GPS will provide the most information for golfers, especially when you're playing a course for the first time. Whatever you need to know, it's all right there for your perusal. Everything from yardages to bunkers, the entire golf course is laid before you and all without the cost of hiring a caddie. And a GPS will not only give you the distance to said bunkers and water hazards; it will also show you hazards which aren't visible to the naked eye. Plus there's information about the size and shape of the green which can be crucial for good course management.
The market is awash with great GPS devices from some of the biggest brands in the world, including Garmin, TomTom, GolfBuddy, SkyCaddie, Izzo, ShotSaver and CaddieON.
Cons
Accuracy is the GPS devices Achilles heel and also the primary complaint among golfers. While modern GPS units are a massive improvement over the originals, there's still those times when accuracy goes for a wander and that is when you begin to wish for a laser rangefinder. GPS are also unable to give exact yardages to the flag, which can be considered as both good and bad depending on your attitudes towards receiving help in this area. However, if you want exactness to that flag, then a rangefinder is a must!
The other sticking point for GPS devices is that they can only be used at courses which the company has mapped. This isn't a big issue as almost every unit now comes loaded with tens of thousands of courses – but that won't make you feel any better if the course you want to play isn't available for your chosen device.
Right, onto the rangefinder…
Rangefinders
Pros
Accuracy, accuracy, accuracy! That is the single biggest reason to choose a laser rangefinder over GPS device. Every major rangefinder on the market, from Bushnell to Nikon to Shotsaver, is accurate to within a yard, and some promise accuracy to the half or even tenth of a yard!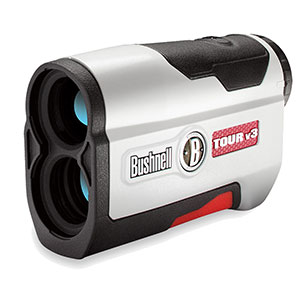 Another big thumbs-up for the rangefinder is that they can be used anywhere. Every golf course on the planet can accommodate these little gadgets and you don't need to worry about downloading in advance to playing. Lasers are also great on the range – you can verify the flag you're knocking down is actually 150 yards away and not 140.
Cons
One overlying issue for rangefinders is the pace of play it forces you into working. Whereas a GPS will give you yardages as soon as you get to your golf ball, a rangefinder requires you to take it out and then aim it at the flag to receive your number. And some golfers have even complained that their shaky hands have caused issues when trying to align the sight with the flag. Although playing with a rangefinder is still faster than working without one, some people do prefer the ease which comes with GPS devices.
Another stumbling block could come in the form of visuals. A rangefinder can only give you yardages to things you can see and connect to with the laser. The laser is best for knowing the distance to the pin, but it cannot reliably tell you the distance to the front, back or middle of the green. And don't get us started on hills and trees. Let's just say you won't be finding the target if something is obstructing the scenery in front of you.
And the winner is…
Ultimately the decision between a GPS unit and a laser rangefinder comes down to personal preferences. Do you like detailed information provided on a large GPS screen? Is a laser's dead-perfect accuracy worth the time? Regardless of which device you feel is best for your game, one thing that's certain is that today's golf technology will help your course management and gain you vital scores when used at the right times.
View our full range of golf GPS and Rangefinders today.
Latest News
OG News: Jarrod Lyle confirms he's in "palliative care"

The golf world, and many out of it, have been left rocked by the news that Jarrod Lyle is going into palliative care after claiming he is "no longer able to fight."
Read more

OG News: Two events left for McDowell to secure PGA Tour card

Graeme McDowell will have just two events to secure a PGA Tour card which would enable him to play in the United States next year after failing to qualify for next week's USPGA Championship in Missouri.
Read more

OG News: Leona & Lisa Maguire sign deals with Puma Golf

PUMA Golf a leader in golf apparel, footwear and accessories are pleased to announce the signing of sisters Leona & Lisa Maguire with immediate effect.
Read more
club.news.more
Latest Videos
Video: Callaway Chrome Soft & Chrome Soft X

Chrome Soft Golf Balls combine Tour-proven performance with unparalleled feel and exceptional mis-hit forgiveness. Everything about the ball that changed the ball is better because of the innovation at every layer, starting with Callaway's groundbreaking new Graphene Dual SoftFast.
Read more

Video: Cobra Golf KING F8 Iron Tech

KING® F8 Variable and ONE Length™ irons are equipped with COBRA CONNECT™. Automatic shot tracking technology Powered By Arccos™.
Read more

Video: Octagon

The driver face is outdated. TaylorMade thinks its found the solution and sat down with five of its biggest players to see their reactions as the most twisted driver innovation is revealed. Are you ready to see?
Read more
club.news.more