ECCO Cage Tex Shoes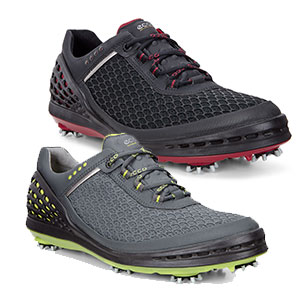 The style and practicality which comes from wearing any pair of ECCO Golf shoes is what makes them one of the best footwear for golfers on the market. However, for those who are yet to make the leap to this consistently-growing brand, the new ECCO Golf Cage Tex Shoes will certainly turn the head and – once you experience the fit and feel of these wonderful shoes – you will be a fan for life.
The ECCO Cage Tex Shoes have been made with HYDROMAX process which provides excellent comfort and water-resistant protection. HYDROMAX treatment is a permanent water resistant process for leather that ensures feet stay dry, while the shoes themselves remain soft and supple over time. The process of the leather is treated with a mixture of paraffin and silicone bases during the re-tanning process, to create water repellent leather that remains luxurious. Shoes that come with HYDROMAX leather come with a 12-month water resistant guarantee.
When it comes to scoping out how well designed the ECCO Cage Tex Shoes really are, it's good to look at its revolutionary comfort and performance which has been brought on by having DiP stability wrapping from the heel through the midsole and across the toe box. This is combined with a breakthrough outsole inspired by the foot's natural muscle structure. This excellent design also helps to hold the heel where it needs to be while moving in harmony with the foot's natural ligaments and muscles.
There is a wealth of high-quality golf shoes available right now, but if you're looking for the complete package then ECCO Golf Cage Tex Shoes offer a little bit of magic for everyone's feet and they are available now from OnlineGolf.
View the full range of ECCO Golf products today.
Latest News
OG News: Leona & Lisa Maguire sign deals with Puma Golf

PUMA Golf a leader in golf apparel, footwear and accessories are pleased to announce the signing of sisters Leona & Lisa Maguire with immediate effect.
Read more

OG News: Meet the TaylorMade M3 & M4 Metalwoods

TaylorMade Golf has released its M3 & M4 metalwoods, highlighted by the company's breakthrough innovation – Twist Face technology.
Read more

OG News: TaylorMade unveils M3 & M4 Irons

TaylorMade has unveiled its newest creation, the M3 and M4 golf irons. They have been made using an array of key performance technologies to help impact and improve the performances of its players.
Read more
club.news.more
Latest Videos
Video: Callaway Chrome Soft & Chrome Soft X

Chrome Soft Golf Balls combine Tour-proven performance with unparalleled feel and exceptional mis-hit forgiveness. Everything about the ball that changed the ball is better because of the innovation at every layer, starting with Callaway's groundbreaking new Graphene Dual SoftFast.
Read more

Video: Cobra Golf KING F8 Iron Tech

KING® F8 Variable and ONE Length™ irons are equipped with COBRA CONNECT™. Automatic shot tracking technology Powered By Arccos™.
Read more

Video: Octagon

The driver face is outdated. TaylorMade thinks its found the solution and sat down with five of its biggest players to see their reactions as the most twisted driver innovation is revealed. Are you ready to see?
Read more
club.news.more