An Interview with…
Barry Ritchie, Chairman of England and Wales Blind Golf
We spoke to Barry Ritchie, the Chairman of England and Wales Blind Golf to find out about the fantastic work his organisation does with the visually impaired. Here's what he had to say:
Tell us a little bit about your role with England and Wales Blind Golf and what the organisation do?
My current role with England and Wales Blind Golf (EWBG) is that of Chairman. We are a charity and company limited by guarantee. I am in my second term as Chairman following almost 21 years as a director, having been a member since 1989.
"Our aim is to provide visually impaired people with the opportunity to play the game of golf.
Our aim is to provide visually impaired people with the opportunity to play the game of golf. That starts with people that have never played the game, all the way to those that have lost their sight, or some of it, and have had previous experience as a member of a golf club.
How important is it that organisations such as EWBG exist, to facilitate the visually impaired getting involved in sports?
It is extremely important that organisations like ours exist, to provide the opportunity for visually impaired and blind people to participate in sport at some level. Even if this is purely to provide some point of interaction with other visually impaired people and the general public.
There are too many people in the blind community that are isolated from some form of activity and for anyone that has been fully active as a golf club member it is a way to continue a sport that they enjoy. It also sends out a message that just because you have some sort of disability it does not mean that you have to give up doing what you love.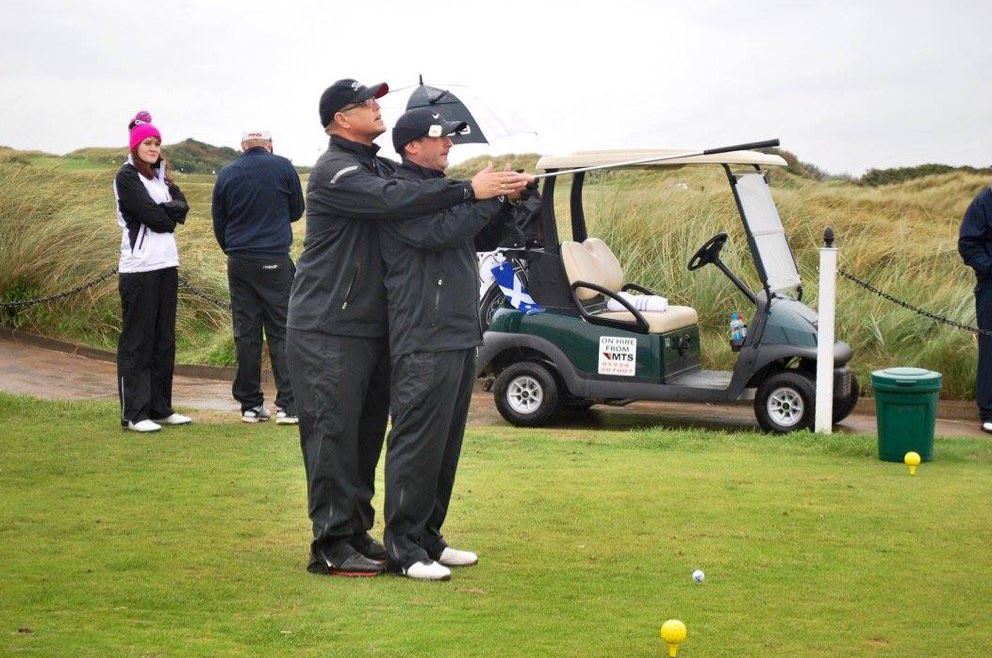 What do your members get from being involved with the organisation?
Our role is to provide the opportunity for blind and visually impaired people to play golf, from players with no experience to those that may have been members of golf clubs and lost the confidence to continue to play. We try to give them a friendly environment to participate, along with a group of people that are fully understanding of the situation sight loss leaves you with.
Financially, we provide golf tournaments to compete in with the costs generally paid, the funding we provide is from our own fund raising efforts. We receive no government or sporting or lottery support.
For those that have never played, we provide early lessons and a progression through the game to eventually taking part in our Order of Merit. Each player's position in this ranking could eventually mean a place in our international team, which has a fixture against Scotland every year.
How often do you have competitive tournaments?
We have a competitive series of events which forms our Order of Merit, this consists of six major events which are a mixture of Stablefor, Medal and Match Play in which points are awarded according to finishing position.
We also have the Lawrence Levy British Blind Masters, which is a 72-hole medal competition, the only one of its kind in the world for blind golfers.
There are also a number of Open events around the world which members can compete in, having reached a certain level of competency.
Where do you play? Do you have a favourite course?
We do not have a permanent home course so we travel around the country playing various courses, although we tend to think of Gaudet Luce in Droitwich as our spiritual home.
What can people do to help the charity?
There are a number of things that people can do to help the charity, for example we are constantly looking for sighted guides to support our existing guides. We find that the biggest problem with people wanting to join is the difficulty in finding someone prepared to give up their time to take someone around a golf course or to a driving range.
There is also the matter of financial support, as we receive no funding from government sources or the lottery we are finding it increasingly more difficult to meet our costs. If someone would like to help with funding they can go to our website which is blindgolf.co.uk or contact any one of the numbers quoted on the site.
What plans do you have for the future?
Our plans for the future are to hopefully continue to provide the support we provide currently and expand our membership, but that will take more funding along with more guides. We have a board of directors that work extremely hard to maintain what we already provide. The organization has been in existence since the early 80s and we hope it continues for another 50 years.
For more information about Barry's work with England and Wales Blind Golf please visit their website at blindgolf.co.uk or keep up to date with the charity on Twitter @EWBlindGolf.