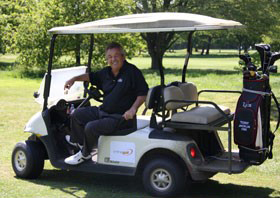 Golf prodigy Tony Jacklin was without doubt the greatest British player of his generation. The 72-year old Englishman brought Europe back on the golf radar with winning The Open Championship in 1969 as the first British player in 18 years and the U.S. Open as first European player in 44 years. Despite not being welcomed by all he was also the first British player on the PGA tour since the 1940s.

As a player Tony Jacklin was part of the Ryder Cup team on seven occasions, consecutively from 1967 to 1979. During this time, the Great Britain and Ireland team, and from 1979 the European team, could not yet secure a win. However, his amazing eagle putt from 50 ft on the 17th against Jack Nicklaus led to a tie in 1969, famously known as 'The Concession'. The grand gesture of Jack Nicklaus, who after Jacklin's brilliant shot, conceded a two-foot putt to the Brit on the 18th hole to tie the match is still remembered as one of the greatest examples of sportsmanship.

After a devastating loss at The Open in 1972, which should be his last attendance at a major tournament, Jacklin's golf suffered. He especially struggled with his putting, leaving him disillusioned and frustrated with the sport. However old spirits revived when he was appointed for his first Ryder Cup captaincy in 1983. Competing again with Jack Nicklaus, who was appointed U.S. Team Captain, Jacklin and his team finished only one point down. He continued to serve as Team Captain for three more times, with the big breakthrough two years later at The Belfry: Tony Jacklin led Europe to its first victory in 28 years. Two years later at Muirfield Team Europe won again, the first ever time the U.S. were defeated in their home country. In 1989, Tony Jacklin's final captaincy, they retained the cup with a tie.

With three victories out of four captaincies Tony Jacklin is the most successful European Ryder Cup captain ever. He induced a new era for European golf, which now no longer needed to hide away from their previously predominant U.S. opponents and inspired a new generation of European golf stars to emerge. Since 1985 Team Europe has won the Ryder Cup 10 times out of 14, and it all began with Tony Jacklin.