Top 10 cities
to golf
From the emergence of Rory McIlroy and Justin Rose to the historic importance of venues such as St. Andrews and Royal Birkdale, the UK has a fantastic golfing heritage. But, which UK city is the best for amateur golfers to hone their skills? Which is the best value, where has the most facilities, and where has the best weather? We've taken a look at 10 UK cities and ranked them to find out the overall winner. See our results below:
overall ranking
1. Cardiff
2 Edinburgh
3. Newcastle
4. Birmingham
5. Leeds
6. Liverpool
7. London
8.Manchester
9. Belfast
10. Glasgow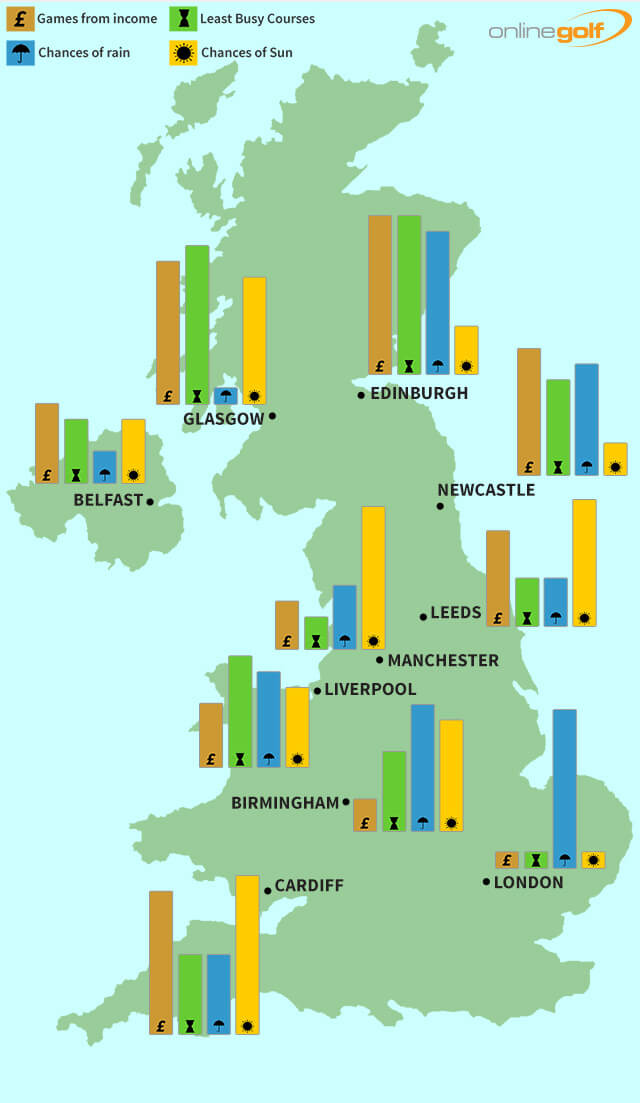 Methodology
In order to produce our overall rankings, we initially took data on 10 large UK cities with a good spread across the nation. These were: Belfast, Edinburgh, Glasgow, Newcastle, Leeds, Manchester, Liverpool, Birmingham, Cardiff, and London. We sourced the number of golf courses, average cost per game, and weather data for each of these locations.
Location:
Using an online golf facilities listing site to find out the number of courses in each city, we looked at the population of each area, as well as an estimated percentage of golfers in the UK (~2%). That gave us a golf-playing population for each city. Then we could work out the number of golfers per course in each city. The lower the number, the less busy that city's courses are and the better its score.
Value:
To give each city a value score, we looked at the average cost of a round of golf in each city, as well as data on the amount of disposable income the average person in each city has. This meant we could calculate the number of games a person in each city could feasibly play, relative to the amount of disposable income in their city. The more games, the better value, and the higher the score.
Weather:
We also sourced weather data from the Met Office, looking at the hours of sunshine and the number of rainy days for each location. We could then work out the percentage of non-rainy days in each location and the percentage of those non-rainy days that were also sunny. That gave us two individual scores for "the least chance of being rained off" and "the most chance of a sunny round".